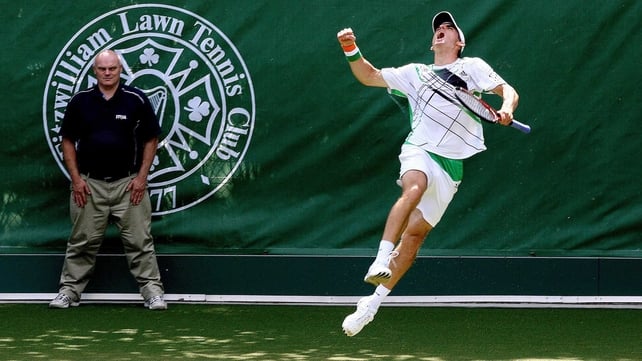 With Operation Garth Brooks reportedly having a dramatic impact on Ireland's potential to attract large concerts and musical events in the coming years its seems like an optimum time to look at sport in Ireland and consider its potential or lack of to host successful events in the future which will ultimately attract tourists and revenue to the country.
Tennis a sport with a relatively low profile in many parts of the country has definite potential towards increasing the quality and number of professional sports events held in Ireland over the next few years.
While the number of events liable to gain revenue from ticket sales is unlikely to change dramatically the current curve in the fortunes of Ireland's best tennis players combined with a more business savvy approach to hosting these events from Tennis Ireland could definitely result in domestic growth.
The events Tennis Ireland must target are their 1 and possibly 2 home legs of the Davis Cup as well as ensuring that the Irish Tennis Open the 2nd oldest tennis tournament in the world is upgraded to a Challenger Tour event within the next 3 years. Looking first at the Davis Cup a competition which up until now has attracted reasonable crowds promotion from Europe/Africa Division 2 to Division 1 seems entirely possible with Ireland currently having two player hovering around 200 in the world (Louk Sorensen & James McGee) as well as another seeking to break into the top 300(Sam Barry) and a doubles player who is inside the top 200(James Cluskey). In addition to this there are several young players notably Peter Bothwell, John Morrissey & Daniel Glancy making their mark in junior, league & collegiate tennis. The key to Tennis Ireland hosting successful events would seem to be securing the strongest possible team something which could be aided by the second important aim of hosting a Challenger event.
The carrot for the players is obvious given the level of quality opposition in division 1. The drawback to Davis Cup Tennis would be the lack of payment for the players who may well be missing out on a rare cheque by opting to compete. Upgrading the Irish Open to a challenger event essentially trebling the prize money would most likely be enough of a carrot to field a strong Davis Cup as it would provide Ireland's two challenger players with a home tournament which could not hurt their ranking as well as providing an unlikely wildcard opportunity for those Irish players operating at Futures Tour level. FBD who have diligently supported the tournament in recent years would realize the likely increase in publicity, standard of play as well as the direct ticket income which could be developed from such a tournament could offer them more bang for their buck with an opportunity also becoming available for a second sponsor due to the scale of the tournament. A Challenger level tournament with a strong field and the right dates selected could attract a significant Irish crowd with Castleknock the club best equipped to cope with the demand. Events such as the Dublin Horse Show, Irish cricket internationals & the Morton Games provide proof that summer minority sports can prove popular in my opinion. Ultimately were 2 or 3 paid home events in a season to become a reality diversification of the venue would become a necessity in order to maximize the potential crowds. Taking a Davis cup tie to Limerick would seem to be the most risk free strategy for this scenario taking account of that city's reputation for supporting sport and that it is Sam Barry's home town. Irish players continuing to be successful would be an obvious reliance if spectators were to be realized however doing nothing only ensures a benefit is not taken. Doing something could yield a tournament which better equips Irish players financially & competitively for the tour , while also attracting visitors who would ordinarily never play in Ireland over the course of their career with the final possible advantage being the boost in Tennis Ireland's coffers.